Best Places to Buy Football Boots in Berlin
There are so many brands, colors, and models of boots nowadays.  When you play with CeleBreak, your boots help to dictate the type of player you are on the pitch. How can you know where to go to find the best football boots in Berlin? We give you the top stores with the best selection so you can look good while playing good.
Adidas Headquarters are in Herzogenaurach, Germany. Loyalty to their hometown company has made Adidas the top-selling sports brand in Germany. Their products offer more streetwear and trendier options in order to stand out to its customers. These can be displayed in the Predator, Nemeziz, X, and Copa series. Sponsored by the likes of Lionel Messi or Mohammed Salah, the feeling of the underdog fits their slogan, "Impossible is Nothing".
The Adidas BASE-Berlin
Enter a whole new football world when you visit The BASE. Built in time for the 2015 UEFA Champions League Final in Berlin, The Adidas BASE is an urban, trendy football experience. The small exterior front disguises the 11,480 ft² interior of fields, cages, and courts. Designed for the street atmosphere, the open floor plan with dimmed features and neon colors foster ideas of creativity. The front showroom displays the newest Adidas boots. It is open only on the weekends, so make sure check out The BASE after a session at CeleBreak's Wedding location, only a couple minutes away!
Decathlon is another large sporting goods retailer that offers something for every sport. Cheap prices and large availability of products draw in customers. They have a range of colors and styles for indoor, turf, and regular boots for football. If you are looking to play a quick game with CeleBreak, Decathlon is a perfect location to get a pair of boots for a low price!

Intersport is the largest sporting goods retailer in Germany. There are many locations spread throughout Berlin, so there is easy access to their stores. Opposed to Karstadt or Decathlon, their product variety tends to be more brand names, like Nike and Adidas. Despite carrying popular brands, their pricing is reasonable for an average consumer. Intersport is one of many options that you will find football boots in Berlin.
Karstadt Sports is one of the top three German sporting goods retailers. Although they carry a wide selection of all sports, they emphasize their attention to customer detail for football. Their staff dedicates service to help you find the football boots that will fit you best. Karstadt has 3 locations in Berlin: Kranzler Eck, Boulevard, and Wildau.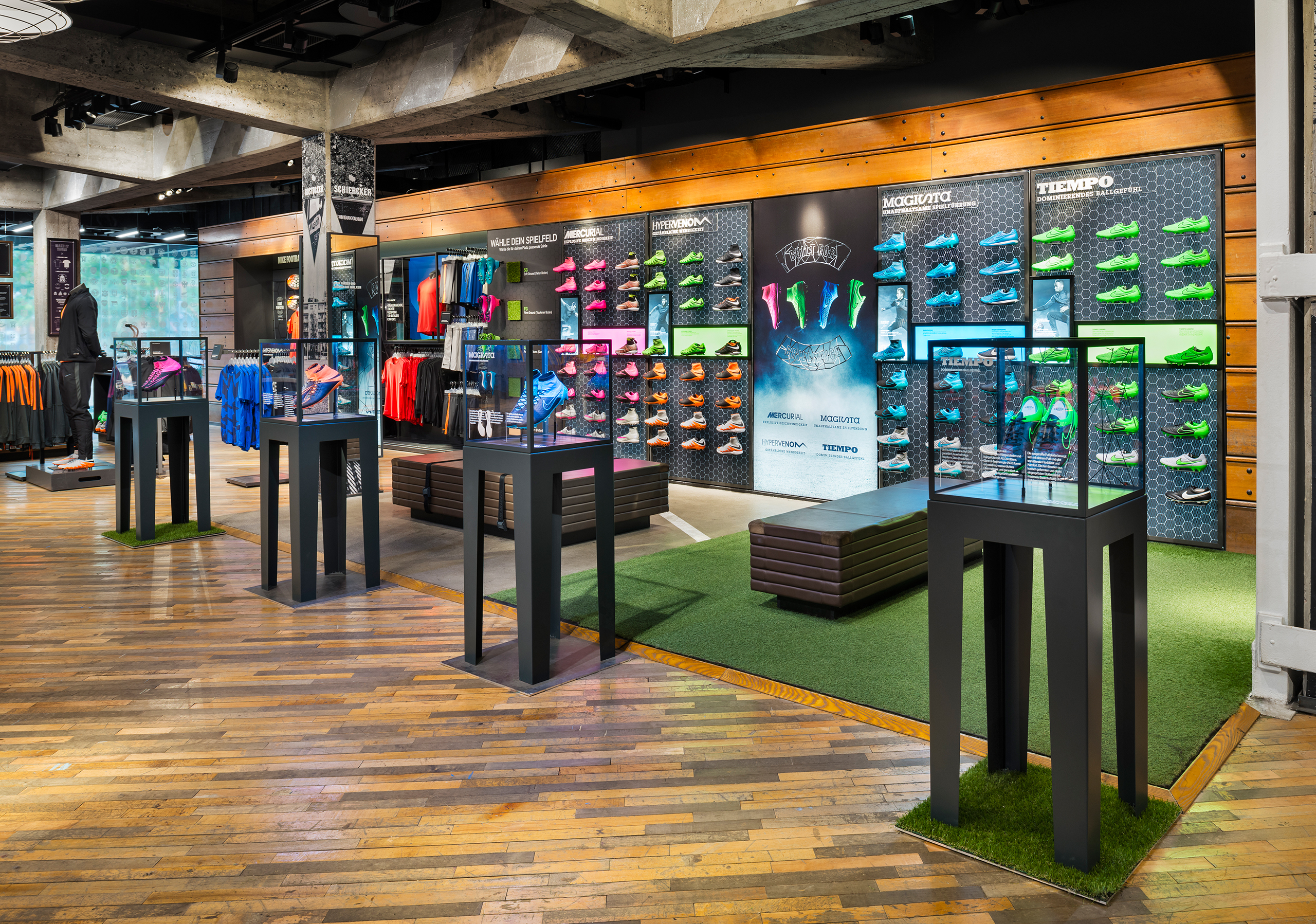 You can not go wrong with Nike. There are 3 stores in Berlin, located at the Europa Center, Hackescher Market, and the Mall of Berlin. Nike's quality and brand name are unmatched. Players on Hertha BSC primarily wear Nike boots, as roughly three-quarters of the team rock the swoosh. Despite the high prices for the boots, you can guarantee that your money will be well spent. Top sponsored athletes, such as Cristiano Ronaldo and Neymar, offer best-selling boots for you to dominate the game.
11Teamsports is a relatively new store; it first opened in 2007. Since then, it has become a hub for football shopping. From boots to team jerseys to equipment, 11Teamsports is truly an all-football destination. The flagship store in Berlin has 1,400 m² of space. On 2 floors, they offer Adidas Laser Customization, a 2v2 play court, and Nike Football Trial Arena. With all the eye-catching gear, it is impossible to buy more than just football boots in this Berlin location.
Put those boots to use!
After buying new boots, you need to test them out. Why not join a session with CeleBreak? It is fun and easy! To learn more, check out our Berlin page or join on the CeleBreak app here: