Hamburg is the second biggest city in Germany behind Berlin. The Elbe River connection to the North Sea has made Hamburg a hub for waterway travel. A blend of modern and historic buildings along the Deichstrasse is a popular tourist area. But, if you are looking to experience some of the fun that the city has to offer, there are plenty of outdoor activities in Hamburg to do! At CeleBreak, we are always active so here are some of the ones you should try.
Bike Tours
There's no better way of exploring a city than cruising on a bike. To explore Hamburg by bicycle, you can choose a guided tour with a local or through Hamburg City Cycles. Both tours offer amazing views of Hamburg that provide abundant information about the city. The local route tends to be smaller and more personalized, while the Hamburg City Cycles is usually with bigger groups. One of the best places to ride is the Elbe Tunnel (above). A massive green dome covers the underground tunnel and allows pedestrians and cyclists alike to cross to the ports.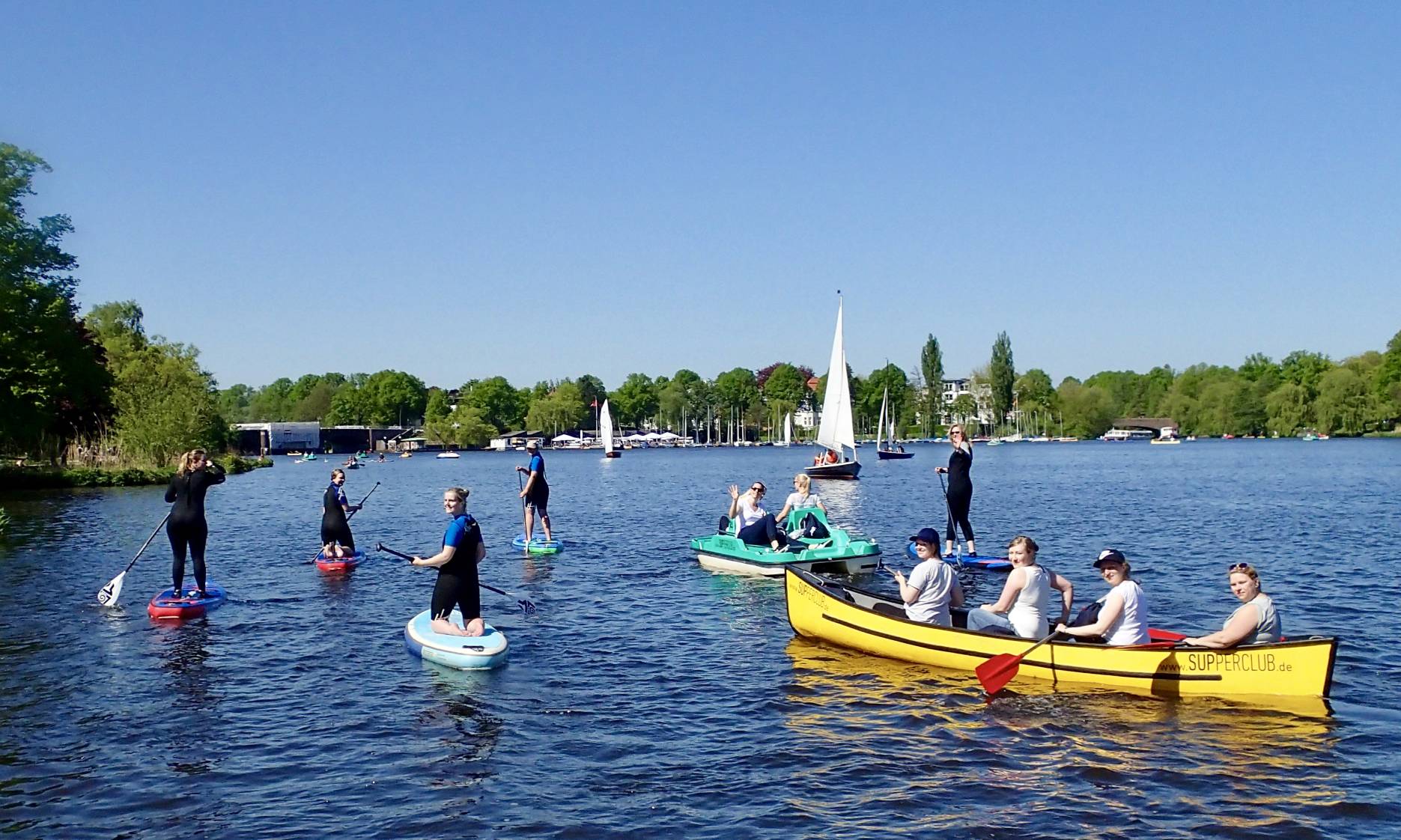 Why not explore by water instead of by land? Frank Heinemann is a personal Stand Up Paddle (SUP) Boarding instructor. He has been teaching paddle-boarders in the Alster Lake for 6 years. You must make an appointment beforehand, but he is flexible to any requests. The paddle board season starts around May because of warmer water and weather. For a unique experience and view, this is definitely one of the coolest outdoor activities to do in Hamburg.
You will be able to reach new heights in this outdoor ropes course, literally. Kletterwald is a climbing forest that offers 7 courses, from 2 m to 10 m. If you are scared by heights, don't worry! You remain attached the whole time to a steel rope. The ropes course is great for parties, large group events, or even for team building activities. Check their pricing to see their rates.
Yes, this is actually a sport and it is self-explanatory as it sounds: water polo in a canoe. It was officially recognized by the German Canoe Association in 1926. Since then, the game has evolved into a competitive European sport. Canoe polo combines the elements of water polo and basketball. There are 5 players and teams have to score into a raised net. Players use both their hands and paddles. For more rules and information, read the Hamburger Kanu Club page. Stop by the Alster pool by the boathouse in Hamburg for a training session.
Rickmer Rickmers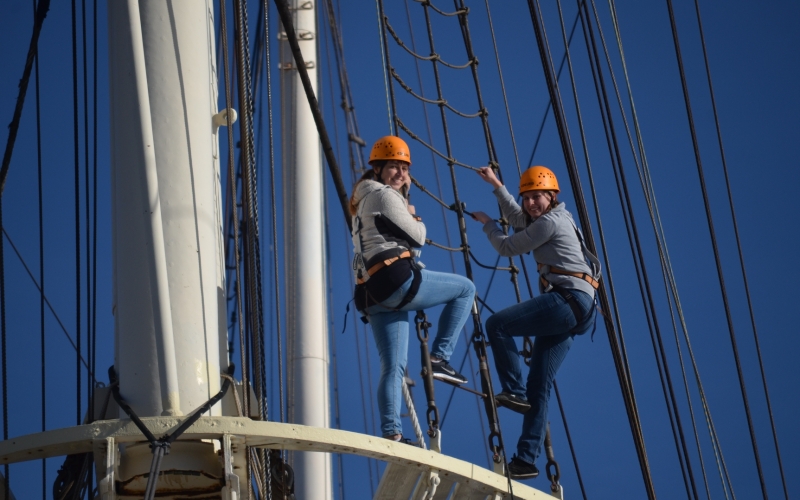 The Rickmer Rickmers is a museum ship which is located in Hamburg's harbour. The ship was used for 90 years before it became a museum in 1983. Besides exploring the ship and its compartments, you can also climb on the ship's masts. Although it is only open on Saturdays, the view is amazing from the port. Climbers are able to reach 35 meters high, while secured by a harness. Combine a tour of Hamburg's most famous ships with a view! 
Walk the Speicherstadt
Hamburg's ranks as the second busiest harbor in Europe. The many canals and waterways that run through the city provided passages for the port dwellers. The Speicherstadt district, or "City of Warehouses", is the world's largest warehouse complex. As a busy port, Hamburg constructed the red-brick warehouses for storage units. Now, the area is no longer used for storage purposes. It is protected by the UNESCO World Heritage Site for its stunning architectural beauty. Walking the Speicherstadt is a must-do outdoor activity in Hamburg.
Session with CeleBreak
CeleBreak has two locations in Hamburg where you can play pickup football. We offer daily games at times that work for you. There is no commitment to playing, so you can play whenever you can. We take away the hassle of organizing a game- all you have to do is show up! Join today and become a part of the CeleBreak community.