Best Places to Watch Soccer in Los Angeles
There is plenty to see and do in Los Angeles. How do you know where to go to watch a soccer game if there is so much to choose from? We love playing and watching soccer at CeleBreak, so we give our recommendations on where to go. From upscale, trendy bars to traditional British pubs, here are the best places you can watch soccer in Los Angeles.
Joxer Daly's
Although it appears to be a dingy bar, Joxer Daly's is a hopping place to watch soccer in Los Angeles. It is an official spot for fan clubs like L.A. Liverpool fans and the American Outlaws, the fans for the U.S. National Teams. The bar opens early to show English Premier League action, which always draws fans. With 6 TVs and a large projector screen for bigger games, soccer is a priority at Joxer Daly's.
Rocco's Tavern is a chain restaurant, with locations close to CeleBreak fields. The spot between Santa Monica and West Hollywood is a hangout for UCLA students because of the proximity to campus. There is another in Pasadena, which is not far from our Glendale location. They offer an "Appy Hour" special, where you can purchase two apps for the price of one, for around $10. The menu is pricey, so you should take advantage of the Happy Hour specials. With plenty of flat screen TVs around the restaurant and bar, soccer will always be featured.
Sports Harbour
Sports Harbour is a quiet neighborhood dive bar in Torrance. An open floor plan and reasonably priced menu provide a comfortable visit. If you are looking for a place to watch soccer in Los Angeles with a small group of friends, this suits you. The staff are very hospitable and always receive praise from guests. Pool tables, dartboards, shuffleboards, and a jukebox give the Sports Harbour its local, homey feel.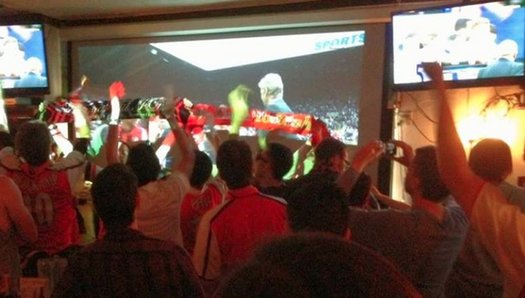 Yet another British pub, The Fox and Hounds offers a cozy location to watch soccer in Los Angeles. The pub opens for European game start times, so the West Coast time zone promises an early morning wake up. Two large projector screens and 10 HD TVs broadcast Europe's top leagues: English Premier League, La Liga, Serie A, and Bundesliga among others. Check the list of games to be shown here to see if your team will be on. A mix of bar food and traditional British dishes await a lively venue for the game!
The Nickel Mine is becoming a neighborhood favorite in Santa Monica. TVs hang inches away from each other. With large selections in beer, wine, and especially whiskey, you will no doubt find a drink to enjoy the game. $4 Happy Hour Specials from 5-8 PM during the week are a hit. Food selection is slim, but it is perfect bar food: pizza slices and wings are recommended. Table games like Jenga or Connect 4 are at every table to entertain guests during commercial breaks. If you want your own private viewing party, rent out the secret room in the back!
Just a stones throw away from the Staples Center, the prices are indicative of the prime location. The menu offers trendy and mouth-watering options, but are pretty expensive. Their "Sports Deck" has 16 TVs so there are more than enough options to watch a soccer game. The bar often gets crowded when a big soccer game is on, so make sure you arrive early for the exceptional ambience of Tom's Urban.
The large floor plan of Underdogs Sports Bar allows for prime seating to view its many TV screens. Located in Glendale, this bar is a relaxed place to catch a game. You can pick from your share of tasty, finger bar food from their menu on their home page. Overall, the amount of TVs and laid back atmosphere make Underdogs an enjoyable setting to watch a soccer game.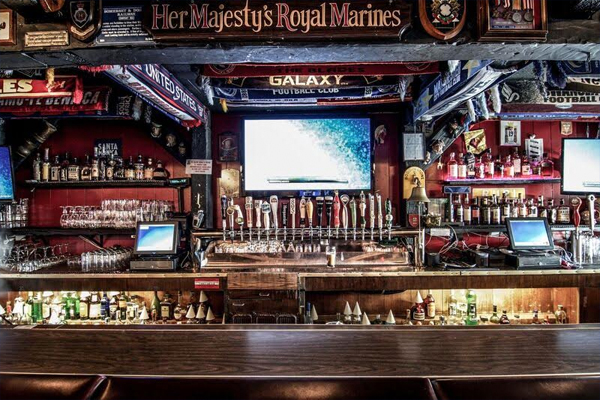 Ye Olde Kings Head is a traditional British pub through and through. Featuring many British food and drinks, the pub provides an authentic British experience for all. They offer half off pints during games, so this is an ideal way to avoid touristy high prices. Because of the time difference in England, they open early to show all English Premier League games, FA Cup action, and Champions League games as well. Next to the pub, there is a bakery and shoppe, in case you want to take a piece of Britain home with you. 
Bonus: LA Galaxy / LAFC
If you want to watch soccer in Los Angeles, why not a MLS crosstown rivalry? The Galaxy have been consistent title contenders, and always add big names to bring out crowds. Although just added last year to the MLS, LAFC made some noise and will look to compete with the top guns. Check out a game at the Galaxy's or the Black and Gold's stadium for exciting, star-packed action!
Join CeleBreak! 
Do you want to play soccer in the Los Angeles area? It is easy with CeleBreak. For our Los Angeles locations, check out our Los Angeles home page: celebreak.eu/play-football/los-angeles/ OR download the CeleBreak app today to find a location near you: Download